John Howland was 28 years old when he arrived in the Mayflower in 1620. He came as a manservant for Governor John Carver. During the Mayflower voyage.
A Godly man, and an ancient professor of the ways of Christ, one of the first comers, and proved a useful instrument of good in the place. Governor Bradford's confidence in John Howland was implicit. He called him among the ten principal men.
John Howland in 1633 was listed of Plymouth freemen [PCR 1:3]((PCR = Records of the Colony of New Plymouth in New England, ed. Nathaniel B. Shurtleff and David Pulsifer, 12 volumes in 10 (Boston 1855- 1861))
In Charge of the fur trading post at Kennebec, 1634 [MD2:10 -11] (MD= Mayflower Descendant, Volume 1 through present (1899 - 1937, 1985+)
In Plymouth section of the 1643 Plymouth Colony list of men able to bear arms (as "John Howland Sen.")[PCR 8:187]
In 1623 Plymouth division of land John Howland received four acres as a passenger on the Mayflower [PCR 12:4]
John was the 13th signer of the
Mayflower Compact
; He commanded the Kennebec Trading post in 1634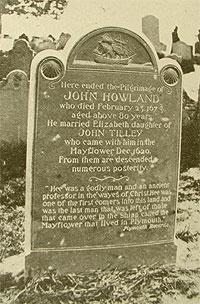 John Howland and Elizabeth Tilley was married before 1624 and one of the earliest weddings in the colony.
He was one of the leading men in the colony, and a partaker of their hazardous undertakings, and eminent for his devotion to its interests both in civil and religious matters. Office sought him from the first, for John Howland, in conscious dignity, never usurped another's place. On this basis he was deputy and assistant the greater part of his long and useful life.
Plymouth Colony Record: "The 23th of February Mr. John Howland Senir of the Towne of Plymouth Deceased…Hee lived until hee attained about eighty yeaes in the world…and was the last man that was left of those that Came over in the ship Called the May flower, that lived in Plymouth hee was with honor Intered att the Towne of Plymouth on the 25 of February 1672."